As young Americans are growing more distrustful of government regardless of political affiliation, President Obama wants them to stop it.
In a commencement speech in Ohio this past weekend, he said:
Unfortunately, you've grown up hearing voices that incessantly warn of government as nothing more than some separate, sinister entity that's at the root of all our problems. Some of these same voices also do their best to gum up the works. They'll warn that tyranny always lurking just around the corner. You should reject these voices.
Read and watch his full comments here.
Now, some of his later points are quite correct: We shouldn't, as Obama says, want to be "a people who place all our faith in government to solve our problems"—nor should we attribute every single problem to government. As many problems as the government does cause, to absolve ourselves, our culture, our choices, and other factors both individual and institutional of all blame is itself irresponsible.
But the most controversial part of the President's quote, the bit I've included above, is simply not true. As much as our government is supposed to be representative, to be of the people, by the people, for the people—all that jazz—I think we all know it's not.
Read More
---
I've never been one for poetry — prose is my game. But one poem I've always appreciated is Percy Bysshe Shelley's Ozymandias, a short poem which tells of a once-glorious statue to a powerful king, now abandoned and decaying with time. Here's the text:
I met a traveler from an antique land
Who said: Two vast and trunkless legs of stone
Stand in the desert. Near them, on the sand,
Half sunk, a shattered visage lies, whose frown,
And wrinkled lip, and sneer of cold command,
Tell that its sculptor well those passions read
Which yet survive, stamped on these lifeless things,
The hand that mocked them and the heart that fed:
And on the pedestal these words appear:
"My name is Ozymandias, king of kings:
Look on my works, ye Mighty, and despair!"
Nothing beside remains. Round the decay
Of that colossal wreck, boundless and bare
The lone and level sands stretch far away.
Our modern kings take Ozymandias' lead, but they tend to be less interested in statues and more interested in libraries — specifically, Presidential Libraries.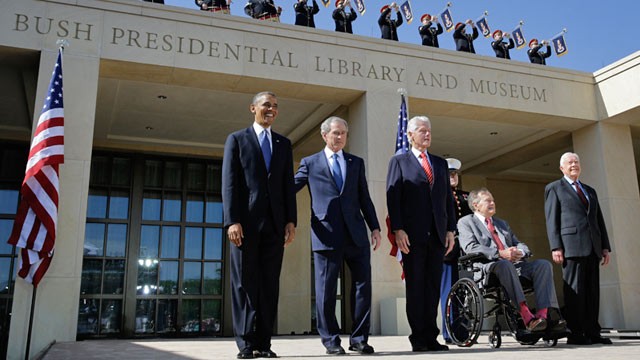 Above, the five living U.S. Presidents stand in front of the newly-dedicated George W. Bush Presidential Library while literally being heralded by a row of trumpeters. Ozymandias would be proud.
In the wake of the recent opening of the George W. Bush Presidential Library, Reason has a good piece from Gene Healy calling for an end to tax-dollar funding of Presidential libraries. "Let America's former presidents burnish their legacies on their own dimes," cheekily declares the tagline.
I completely agree. Not only are these fluff projects expensive:
At 226,560 square feet and a cost of $250 million, the Bush Presidential Center is the biggest and most expensive yet of the 13 presidential libraries that one scholar has derisively called "America's Pyramids." [...]

Though the libraries' construction is privately funded, they're managed by the National Archives and Records Administration, using federal tax dollars. Last year, it cost the American taxpayer some $75 million to keep them open.
…but they also (in this case, at least) seek to justify the unjustifiable, serving as a new wing of the self-glorification campaign in which ex-Presidents apparently love to engage:
One of the key exhibits at the Bush megalith is Decision Points Theater, a virtual Situation Room wherein visitors can "consult" video advisers and make their own calls on some of the "Decider's" key decisions, like war with Iraq, the response to Hurricane Katrina, and bailing out the banks. [...]

In Decision Points Theater, if you decide not to go to war with Iraq, "43″ himself comes onscreen to tell you flatly that you're wrong: "Saddam posed too big a risk to ignore. … The world was made safer by his removal."
Wow. Should we count the theater among the waning minority of the American public who agrees with Bush on this one? (Perhaps Mitt Romney is really the one to ask if theaters are people.)
All sarcasm aside, let's be honest: These libraries are vanity projects, nothing more — fodder for field trips and president-worship incarnate. Erected to memorialize the greatness of Presidents not yet dead, they're Ozymandias' statue modernized: "My name is George W. Bush, Decider of Deciders: Look on my works, ye Tourists, and accept that I'm right!"
Let's be honest again: These guys are not poor. Of the living ex-Presidents, Clinton clocks in as the wealthiest with an estimated net worth of $38 million, and even Carter, the "poorest," is not exactly struggling at $7 million.
If former Presidents want to play Ozymandias, let them also play financier. They're better situated to it than are we. Healy concludes, "As it happens, our recent presidents have mainly left us a patrimony of mounting debt, intrusive government, and permanent war. If you seek their monument, look around you."
Perhaps our Presidents have surpassed the ancient king in one regard: They've skipped straight to the decay.
---
I posted this link and quote on my personal Facebook page and got a reply from a fairly nonpolitical friend. He wasn't aware of the drone program at all, and was wondering about the context of the strike the Senate testimony in question described. I wanted to give a quick but comprehensive overview of the whole drones program, and this (with a few tweaks and sources added) was the result. Feel free to use it to explain what's wrong with our drone program to anyone you know who is likewise uninformed.
Our government conducts an extensive droning campaign across the Middle East and North Africa. Targets are selected personally by the President using a secret "Kill List" (I know this sounds like a crazy conspiracy theory, but it's not — the story was originally broken by the New York Times.)
Fewer than 2% of those who die by our drone strikes are high level terror suspects. As for the other 98%, it's difficult to determine how many are civilians and how many are low level terror operatives. The reason is that the Obama Administration classifies EVERY male from 18 to 60 who is killed as a terrorist, regardless of whether there is any evidence of guilt at all. This "guilty until proven innocent" mindset allows them to kill with impunity and claim that they are conducting targeted killings on a terrorist population, when that is simply not the case. Many of these men are simply poor farmers who were in the wrong place at the wrong time. Some estimates put the civilian to terrorist killed ratio as high as 50 to 1.
But it gets worse. Even putting aside the dubious classification of many of the male victims, our drone strikes also kill a high percentage of women and children. We've even deliberately targeted wedding celebrations. And the most horrifying part: There's a technique called "double-tap droning," which is where we send a bomb on a target, wait a few minutes, and then circle back around to kill the first responders as they rush to help our victims. It's a truly diabolical tactic.
In short, the bombing this Senate testimony is talking about is not an isolated incident, and it was not a mistake. Our drone warfare is a shameful, inhumane program which creates more enemies than it kills.
---
« Older Entries